Seeking to reach out to those in charge of making office design decisions – senior management of multinationals – I recently contributed an article to the American Chamber of Commerce in Japan (ACCJ) Journal spelling out recent evolution in the workplace…
Demands for space saving, openness, and interaction have driven the last ten years of western workplace evolution. Benching – desks joined in long continuous rows with a central spine for cabling and fixtures – has become more popular because it addresses these demands while offering efficiency and flexibility. Thus, Western businesses have been abandoning their cubicles for an open plan layout that closely resembles the conventional Japanese office, where staff sit in rows without partitions. The Japanese model saves space and maintains open sight lines – particularly from the manager's desk.
Trade-offs between personal comfort and privacy vs. organizational transparency can be a tricky (and often a politically charged) balancing act. Cultural factors add further complication. In terms of productivity, this entails compromise between working with fewer distractions – overheard phone and office conversations – and a freer flow of ideas with a greater sense of common purpose.
The right combination of desk size, layout, and privacy are dictated by the work at hand. For example, a call center employee's space and privacy needs differ from those of a marketing team that works collaboratively. Mobility is also a factor. A salesperson who is frequently out and about with a laptop needs less real estate than a deskbound analyst who writes reports, takes calls, and files paperwork all day.
The right desk system should offer the flexibility in terms of size, layout, and partitioning to accommodate a range of users, as well as being extensible and reconfigurable to meet future growth and changing needs. Unfortunately, several large Japanese manufacturers' dominance of the office furniture market has made them complacent. Their surprisingly expensive products lack the quality, design flair, and innovative flexibility that some foreign competitors offer in Japan.
Increased seating density and openness should be accompanied by common spaces for employees to use away from their workstations. Informal meeting areas, such as break rooms and lounges, provide appropriate spaces for spontaneous chats.
Likewise, private sanctuaries – small meeting rooms or study booths, for example – offer quiet places to make sensitive phone calls, read trade literature, or compose reports in peace. Protocols for when these spaces should be used reinforce a common understanding and reduce distractions.
Before speaking to any staff members, visitors form their first impressions about the company – its values, practices, and prosperity – while they wait to be met. The reception/waiting room is essentially an immersive branding opportunity, but one that transcends mere company logo and colors. It's an environment where visitors should feel welcome, valued, and comfortable.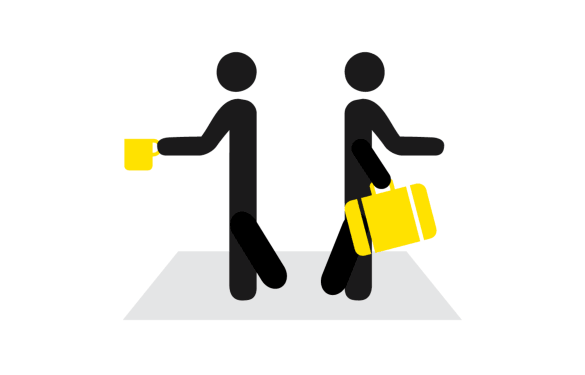 Hallways and corridors aren't necessarily functional routes from points A to B. Like city streets, they transport traffic and should present changing views and chance encounters. Dead ends should be avoided at all costs. Signage and clear sightlines aid visitors' orientation. Lighting and color contrasts can reinforce navigation, build sense of arrival, and convey energy in what would otherwise be dead space.
When planning meeting rooms it's important to consider their size and the degree of openness (partially or fully enclosed, glazed, or completely open). These factors can vary to accommodate different meeting types: formal or informal, scheduled or spontaneous, private or open, etc.
For self-contained meeting rooms, creating the appropriate atmosphere is particularly important to consider. Distinctive colors, textures, artwork, and lighting help create a conducive mood. A mixture of atmospheres and furniture can create a range of experiences, each of which leaves a memorable impression on the visitor.
Meeting areas on the periphery of the workspace are a release valve for workers who wish to hold impromptu conversations without disturbing others or going through the formality of reserving a meeting room. Open seating areas can double as temporary working space for mobile workers and consultants.
Japanese companies love holding long internal meetings, endlessly discussing ideas, often without reaching a clear outcome. Standing meetings offer an antidote (we all have a threshold for how long we can stand in one place). Frequent, short meetings can allow participants to maintain concentration and focus on reaching a conclusion. A meeting point is typically a central bar-height counter at which teams can spontaneously huddle to discuss ideas without disturbing those seated around them.
Most Japanese offices come with a small kitchen for brewing tea and coffee and reheating meals, but lunch is all too often eaten at the desk. A pleasant and attractive break area encourages staff to move about, take breaks, and socialize internally with others from across the company. More than just a staff canteen, the break area can host meetings and multiple functions before and after lunch hour. Mobile workers can alight here; visitors can wait and meet casually over a cup of coffee; and the entire office can gather for workplace celebrations.
Japan – where fax machines are still a common sight – is addicted to paper. Piles tend to clutter desktops and any available surface. Providing adequate filing space, both at the desk, but also in central cupboards, is key to portraying a well-managed and orderly business. Often, filing units can be integrated within walls or double as privacy dividers, even seating.
A cloak room may seem like an indulgence, but if staff don't have space to store winter coats, suit jackets, extra ties, etc, they'll inevitably be slung over partitions or on makeshift coat stands blocking aisles and corridors. Establishing practical housekeeping protocols will ensure that the space gets utilized and the workplace remains uncluttered.
Another bane of the office, suspended ceiling tiles typically conceal mechanical equipment, wiring, and pipes. They also conceal a significant amount of headroom which can be liberated to heighten the sense of space. Like many retail spaces around Tokyo, exposed pipes and ductwork give an office a less stuffy vibe, thanks in no small part to better air circulation. Light from fixtures suspended below can be reflected off the exposed ceiling, evenly washing the workspace with diffuse illumination and without glare.
In a well-designed office, work, meeting, and support areas are not mutually exclusive, and their functions can blur and overlap. In order to extract the most value from Japan's high office rents, managers can and should creatively consider and encourage flexible use of space and provide attractive amenities to offset space savings. A more dynamic office improves staff morale and retention rates by offering greater choice and individuality. Design can uplift office life and maybe even your company's bottom line.
About my illustrations…
Although my original article was illustrated in the magazine with photos of BAKOKO's recent CDS office renovation, I've included some of BAKOKO's workplace iconography. We use these as a visual shorthand when giving presentations about workplace design concepts. Our set of vector illustrations are derived from those in the excellent book Planning Office Spaces by Juriaan van Meel, Yuri Martens, and Hermen Jan van Ree (CC BY-SA 3.0). If you want to re-use mine please give due credit. Thanks!